Qosmos TV
  Watch QosmosTV on YouTube!
How to Strengthen Threat Hunting with DPI Sensors Webinar
In this webinar, Cybersecurity Insiders and Enea's cybersecurity experts from the Qosmos division present the findings of a survey on DPI sensors, how to transparently integrate DPI sensors within a SOC security stack and give examples of attack scenarios that can only be detected with DPI sensors.
Qosmos NFV Monitoring Probe
See a demo of the market's most advanced DPI-based probe for NFV monitoring and troubleshooting.
Qosmos ixEngine for Cybersecurity Applications
This video offers a quick overview of Enea's Qosmos ixEngine for cybersecurity applications. Qosmos ixEngine is a Deep Packet Inspection (DPI) library used by vendors to embed real-time application visibility into their security products.
The video uses Kibana as a visualization tool to show how ixEngine can be used to classify traffic and extract metadata for use cases such as SIEM and Security Analytics. It also looks at ixEngine's Deep File Inspection (DFI) Module for Malware Detection and other Advanced Security Analysis.
Red Hat Presents vCPE Scenarios for NFV Deployments
Rob Wilmoth, Principal Architect at Red Hat Telco explores different vCPE scenarios and talks about Red Hat OpenStack Platform, a platform customized for operator NFV deployments.
Demo of Qosmos DPI Engine for Network & Telecom Applications
This video gives a quick overview of Enea's Qosmos ixEngine for networking and telecom applications.
Qosmos ixEngine is a Deep Packet Inspection (DPI) library used by vendors to embed real-time application visibility into their products for traffic optimization, quality of service, analytics, and more.
The video uses Kibana as a visualization tool to show how ixEngine can be used to classify encrypted traffic or P2P activity, and to illustrate use cases such as fraud detection and Quality of Service.
Qosmos ixEngine for Malware Protection and Data Loss Prevention
Organizations of all types are facing new cyber threats, increasing the risk of infection by malware and exfiltration of sensitive information. Security vendors have responded with new solutions for malware protection, data loss prevention (DLP) and threat analysis. To be effective, these products need to dig deep into the payload of network traffic and extract detailed information such as file content (typically decrypted payload).
This screencast video provides a quick overview on how Qosmos ixEngine can be used to extract content and metadata inside security solutions for Malware Protection and Data Loss Prevention.
Reality-check: boosting VNFs with Vector Packet Processing (VPP)
Cisco's now open-source virtual switch module has a reputation for high performance, proven technology, flexibility, and a rich feature set. Practically, how can VPP be used to boost VNF performance?
In this presentation, delivered at SDN OpenFlow World Congress 2016, Nicolas Bouthors, CTO, and Christophe Fontaine, OpenSource Software Engineer at Qosmos, address the following points based on practical experience:
– Making multiple applications coexist on a single VPP
– Stretching the envelope from low end to high end implementations
– Testing specific use cases such as DPI, firewalling and NSH Proxy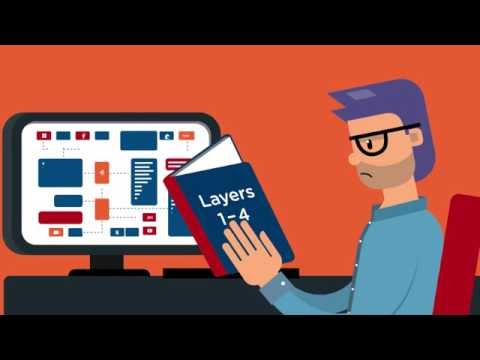 Discover detailed, real-time network traffic visibility from Qosmos
DPI and IP classification are key technologies residing inside modern networking equipment, used to optimize traffic, to measure quality of experience, or to protect from cyber threats. This video shows the importance of using high performance technology from a specialist such as Qosmos.
Qosmos is the market leader for IP classification and network intelligence software. Our technology provides detailed, real-time traffic visibility up to Layer 7 with continuous signature updates. Qosmos customers benefit from fast time to market and new service opportunities while ensuring the highest performance for their solutions.
For more information on Qosmos technologies, click here 
Networking in Virtualized Environments
Nicolas Bouthors, CTO, Qosmos, shares his vision of networking in virtualized environments. He explains how a new component-based architecture is made possible by combining Network Function Virtualization (NFV) with open software such as OpenStack and OpenDaylight. He goes on to explain the key role of real-time traffic visibility up to layer 7 to understand interaction between networked software components: passive view of traffic behavior, ensuring active security between VMs, and a proactive approach with service chaining.
Layer 7 Visibility – Opening Up New Opportunities For vCPE Services
While many articles and presentations discuss how vCPE technologies can deliver existing services in simpler and cheaper ways, this presentation focuses on new service opportunities enabled by Layer 7 visibility.
Filmed at NFV World Congress 2016, Erik Larsson, VP Marketing at Qosmos, explains why Layer 7 visibility is an essential ingredient of any vCPE strategy for both equipment vendors and operators. He shows the enterprise and operator business drivers for vCPE services and details the importance of L7 visibility to the success of these services, covering areas such as service optimization, introduction of VAS and network security. He explains how operators can use L7 visibility to offer network management functions as value-added services through a web interface, shows the best configuration for service chaining and presents different deployment scenarios, including a reference example.
A copy of Erik's presentation is available here